What every Medieval kitchen needs: The Jug
The kitchen is more than cookpots. In a kitchen, one needs storage jars for all those ingredients to keep them dry. Colanders, mortar and pestles for crushing, bowls for mixing, and serving plates. There wasn't running water in the house (well, unless the roof was leaking, which is bad) so, having jugs to go gather water from the well or nearest water source was a good thing to have.
The jug was a multi-tasker. It not only brought water into the home for cooking, but it could also hold other liquids (ale, wine, broth, soups, etc) both hot and cold. One can also use it to fill a tub for the yearly bath (in some cultures) or help do the washing. Some people used jugs to drink directly from while others used as pitchers. Some had pinched spouts, while others didn't. And it isn't a surprise by it's versatility that there are so many jugs of so many sizes and shapes found in digs.
I'll be posting a number of Jugs to show a few examples in the future.
Accession number:
A15259
Collection place: Hertfordshire
Production date: Late Medieval; mid 14th-mid 15th century
Material: ceramic; earthenware
Measurements: H 330 mm
Museum Section: Medieval
Summary: Late Medieval Hertfordshire Glazed ware baluster jug with green glaze, stabbed handle and stamped boss decoration in the form of stars.
Location: Object stored at Mortimer Wheeler House (Ceramics and Glass store)
Category: Medieval glazed ware.
Sub-category: Late Hertfordshire glazed ware.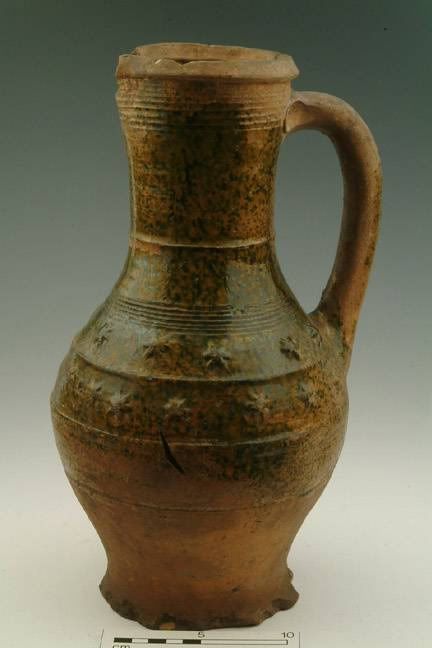 Labels: earthenware, english, jug, jugs, Late Medieval