Pedestal lamps in Saxon-Norman England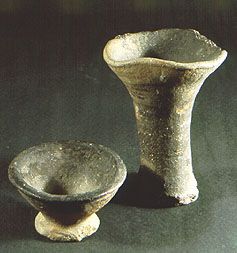 Pedestal Lamp
Saxo-Norman AD 850 - 1150
* Common name Early Medieval Oxford ware
* Class Pedestal lamps
* Height left, 56mm right, 145mm
* Identifier PW50
* Production centre a dispersed industry to the north west of Oxford
* Distribution local
* Use for lighting interiors
* Date 11th - 12th century AD
* Published in Jope, Jope & Rigold 1950, Fig 21 nos 3 and 2, 59
* Provenance found in 1894, one near the University church with pottery, skeletons and a Roman coin; the other from properties associated with wealthy merchants.
I'm always looking through websites for new things to make. I came across this "new" simple project off the
Ashmolean Museum
site. I find it interesting since it looks like a bowl or even an early version of the English beakers that came out much later. The more you look at pottery and really analyze the various forms, to more you can see similarities throughout the centuries. Sometimes you can see the influences between cultures as well (if there was trade between them, that is).
Labels: 11th century, 12th Century, english, english stoneware, lamps, Saxon-Norman