Pot: Butter pot
Definition: A large, cylindrical or slightly bulbous vessel, taller than it is wide, used to store dairy products.
Definition per the Historic
Ceramics Glossary online
Its use, to store butter. As far as I've read, butter filled most of the pot then covered with salted water. Probably a cloth was draped across it to keep out bugs, etc (but this is a guess on my part). These pots were taken to market, dairies and so forth, filled and emptied a lot.
There are more modern "butter bells" and "french bells" made in the 19th century and those are sold in gourmet shops, however, there aren't any period references that I have seen yet that show a pot with a lid.
I like this
Butter site
since it has a lot of various information, but not all of it is 100% accurate. I do like some of the stories on there however. It's fun at least.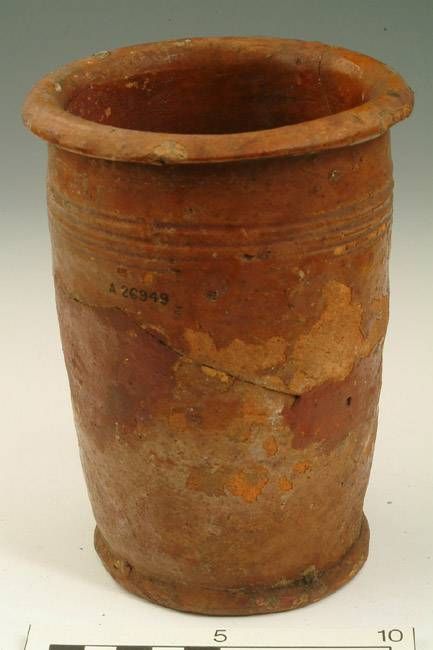 pot; butter pot Production date: 1580-1700 Measurements: H 155 mm; D 110 mm
Museum of London collection
Labels: butter pot, Post-Medieval