14th-mid 15th century Dripping Dish
I'm always trying to find new things to make that are unique. This is a new form for me and it's hand building, which gets me to use different skills for a change.
Details on this item from the Museum of London over
here.
dish; dripping dish
Accession number: 23053
Collection place: Hertfordshire
Production date: Late Medieval; mid 14th-mid 15th century
Material: ceramic; earthenware
Measurements: H 44 mm; L 301 mm; W 240 mm
Museum Section: Medieval
Summary: Reconstructed Late Medieval Hertfordshire Glazed ware dripping dish, with pinched pouring lip at complete end, straight strap handle in centre; almost complete.
Location: Object stored at Mortimer Wheeler House (Ceramics and Glass store)
Category: Medieval glazed ware.
Sub-category: Late Hertfordshire glazed ware.
I took a horrible picture of my final dish. If it doesn't sell, I will try to retake the dish again and do this shot over. I made a decision that there was only one pouring spout as the other side was broken, but it could have just as easily been on both sides.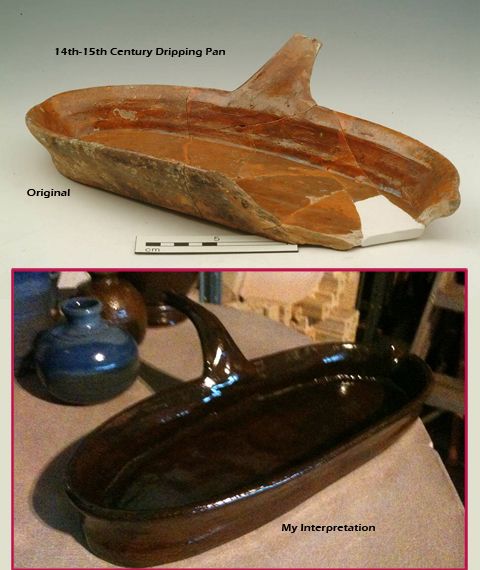 Labels: 14th-mid 15th century Earthenware, dripping dish, historical pottery, Late Medieval, Late Medieval pottery