13th Century Cauldron
Most of you may know, I recreate a lot of historical pottery. I haven't really shared a lot of my own pottery here or ever done any comparisons to the originals. I have a few of those in a few posts here and there.
When recreating pottery for me, I try to get close to the original, however there will be differences. As a potter, I make decisions based on design, esthetics, and my own experiences as I create the piece. I often work from one print out, usually a profile and a lot of the time I will miss details or I am unsure about parts of a piece, so I will make my next best guess about what the piece really looks like. Sometime the photo I have is of a broken item or damaged piece, so I have to make up parts as to what could possibly be there. I also change the items size depending on the needs of the final user/owner is (usually bigger). That will distort the completed object into looking exactly like the original.
If I had the piece in front of me, I would have a bit more control over what my finished product would be. Also, as an artist, I want the pot to have some of me in the work as I don't consider myself a production potter. However, I think usually I get pretty close to what I am looking at within 1-5% of the piece.
Here is a pot I found on the Museum of London site
over here
. It is a Cauldron, 13th-14th Century.
Here are the details per their website:
Accession number: 18931
Collection place: London
Production date: Medieval; late 13th-mid 14th century
Material: ceramic; earthenware
Measurements: H 240 mm
Museum Section: Medieval
Summary: Largely reconstructed London-type ware cauldron with opposed, angular loop handles, glazed internally.
Location: Object stored at Mortimer Wheeler House (Ceramics and Glass store)
Category: Medieval glazed ware.
Sub-category: London-type ware.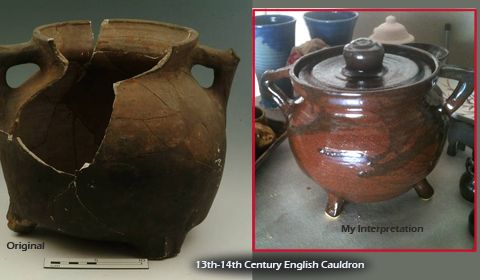 Labels: 13th Century Cauldron, 14th Century Cauldron, cauldron, english stoneware, Medieval; late 13th-mid 14th century, stoneware