Double Walled German Jug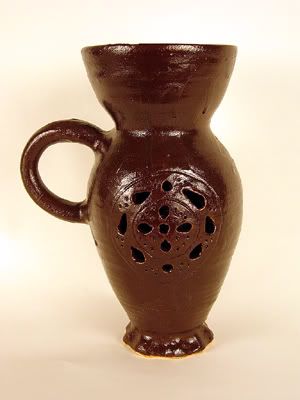 I was busy, wasn't I? And I am in a rush to get these posts done. This picture its hard to see what I've done, but it's not an illusion...there are HOLES in the jug. And you CAN drink out of it.
It's double walled. I just realized I should have taken an inside picture of the piece, but I didn't last night. Basically, there is a separate, thin "rosebud" vase that I threw, slid into the cup, attached permanently into it, and I incised the outside cup. Glazing the entire piece completed it. While this piece has a little more weight than a normal cup, TECHNICALLY it has TWO cups into it, so its not THAT heavy considering its about 8" in height, and its High fired stoneware.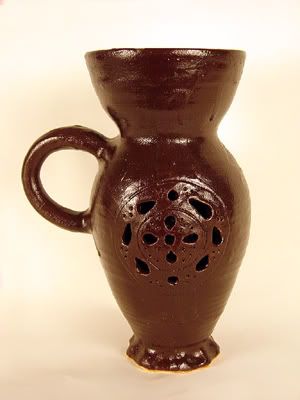 I'm extremely happy with this piece. The engineering of it was incrediably elaborate. I had to figure out how it was done, throwing the pieces was interesting, measuring them out was yet another challenge (because the rosebud had to slide into the main jug tight) and then, I had to attach the pieces blind. The weather was very dry and I was afraid the piece would crack. Then I can to do the incising/craving without crushing all the work I had done before. I couldn't imagine how potters did this in production. They must have figured out a better way than I did it for sure.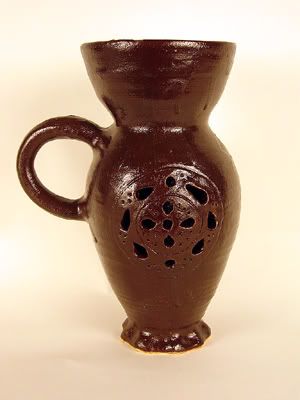 Pretty impressive if I do say so m'self. :)